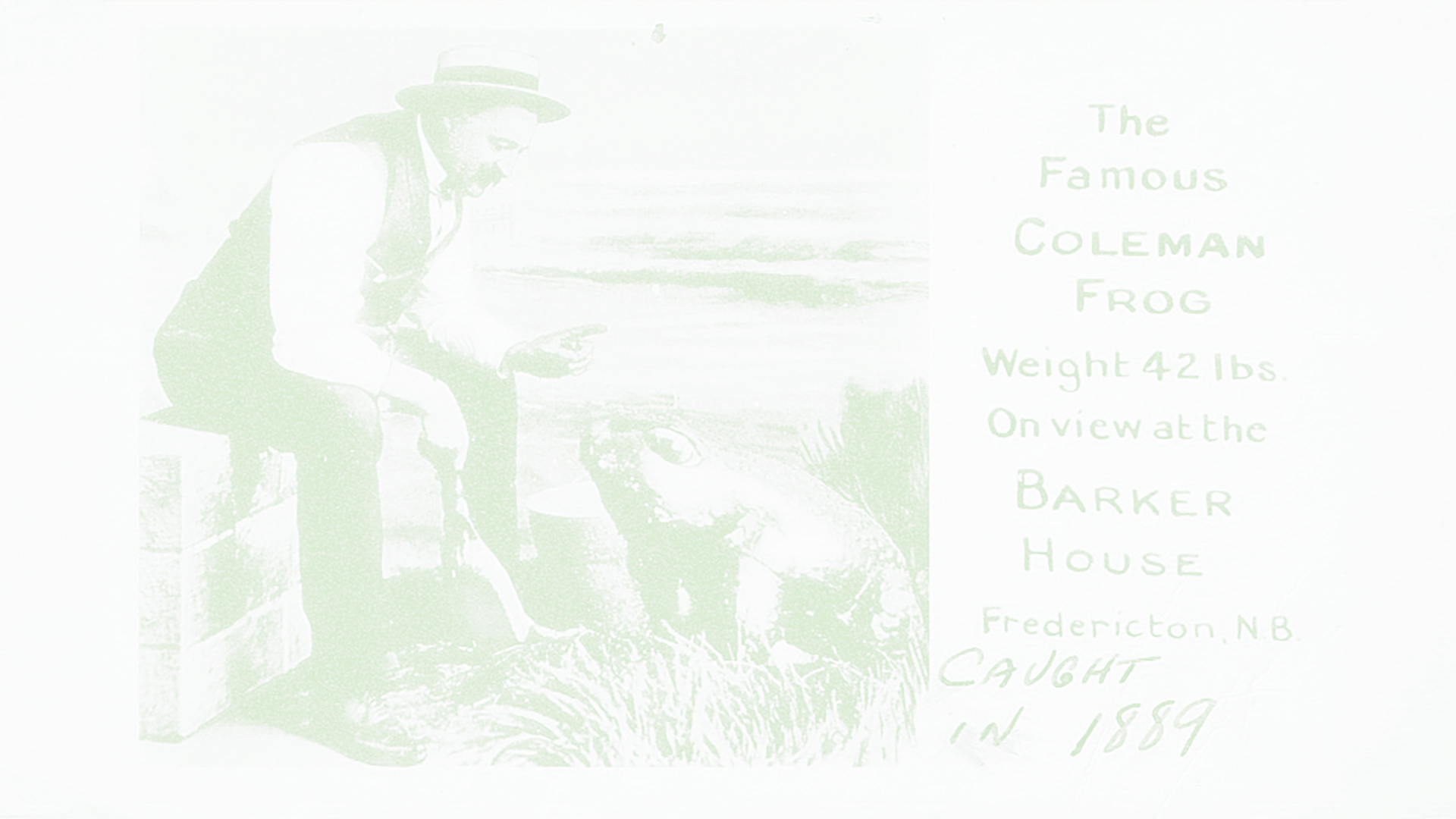 CORNELIA WEBSTER
CORNELIA WEBSTER

LINDSAY JACQUARD
& JEFF ARBEAU
LINDSAY JACQUARD
& JEFF ARBEAU
ABOUT CORNELIA WEBSTER
---
The story of the Coleman Frog takes us back to the 1880s. It is said that Frederic B. Coleman, owner of the Barker House Hotel, was at Killarney Lake fishing when a frog leapt into his boat. He decided to keep it as a pet, and fed it a variety of distinctly unsuitable foods such as whiskey and whey. Surprisingly, the frog took to its new diet with a passion and grew to an enormous size. The average bull frog weighs one pound; this frog is said to have weighed 42 pounds.

As the frog grew, so did its bond with Coleman. Supposedly, it would come when he called or rang a dinner bell and follow him around like a pet. Other tales include the frog entertaining Coleman's guests, towing canoes, and even racing against tomcats.

Unfortunately, their friendship came to an untimely end when the frog was killed in a dynamite accident; potentially, there may have been poachers blast fishing in the lake making a casualty of the frog. Coleman is said to have recovered the body and had it sent to a taxidermist in Maine, after which it was displayed in a glass case in his hotel. It remained there for many years, both as an attraction, and later... an ashtray.

Today, the Coleman Frog can be seen at the Fredericton Region Museum. In the 1980s, it was sent for conservation treatment, at which time it was determined that the taxidermy methods may be consistent with that of the 19th century. Other authenticity tests have come back inconclusive. Investigation has shown, however, that the Coleman Frog would have been female. As such, the frog has been affectionately named "Cornelia Webster".

All of the eye witnesses are gone, and all we're left with is her story.

ARTIST STATEMENT
CORNELIA WEBSTER is an interactive multimedia installation-meets-alternate reality game (ARG) which can be experienced physically and/or digitally. It combines second-person storytelling, video art, and even site-specific concrete sculptures to give viewers an unusual perspective: that of Cornelia Webster, aka "The Coleman Frog".

The story of the Coleman Frog is fantastical but full of holes; this project fills in the gaps. The original story is itself implausible, so CORNELIA WEBSTER offers five variations to elaborate on the sparse details that have survived the years. Each tale provides a possible window into Cornelia's time with Fred Coleman, the man who supposedly fed her human food until she grew to an impossible size.

This project examines the way that stories are transmitted, how a storyteller can inject and alter meaning through tone, and how truth and fiction are equally strange.

This project is about a frog.

ABOUT THE ARTISTS
Lindsay Jacquard (she/her) is an arts educator and administrator from Nova Scotia, now living in Saint John, New Brunswick. She holds a Graduate Diploma in Arts Management from Queen's University and a Bachelor of Fine Arts from NSCAD University. She is passionate about encouraging and enabling creative pursuits, working for organizations such as the Imperial Theatre, Third Space, Halifax Regional Municipality, and the Ross Creek Centre for the Arts. Lindsay's own artistic practice involves painting, portraiture, strangeness, and play.

Jeff Arbeau (he/him) is a writer and digital artist based in Saint John, New Brunswick, specializing in interactive and non-linear storytelling. A publishing industry veteran and digital creative, his multimedia works combine the crafts of writing, programming, graphic design, photography, videography, and musical composition to create digital funhouses for the interactor. He is the creator of DISC.OVER SAINT JOHN, a digital multimedia narrative inspired by classic text-based adventures.

LAND ACKNOWLEDGEMENT
The artists would like to acknowledge that this project is set on the unceded territory of the Wolastoqiyik and Mi'kmaq Peoples. This territory is covered by the "Treaties of Peace and Friendship" which these nations first signed with the British Crown in 1726. The treaties did not deal with the surrender of lands and resources, but in fact recognized Mi'kmaq and Wolastoqiyik title and established the rules for what was to be an ongoing relationship between nations.